|   Mission |   |   Vision |   |   Principles |   |  Connect |
| --- | --- | --- | --- | --- | --- | --- |
| The mission of the IFC is to improve the effectiveness of state, provincial, and territorial instream flow and water level programs and activities in conserving (protecting, maintaining, and restoring) aquatic ecosystems. |   | The vision of the IFC is that each water body in Canada and the United States has flow and water level regimes that sustain ecological integrity. |   | The work of the IFC is grounded in our public trust responsibility to conserve the integrity of natural aquatic ecosystems, not just for intrinsic reasons, but for the societal values these ecosystems provide. |   | |
---
Establishing a new Instream Flow and Water Level Conservation Training Center
For nearly two decades, instream flow conservation principles were provided under the direction of the federal Cooperative Instream Flow Service Group (CIFSG) in Fort Collins, Colorado. Since that group ceased to exist in 2001, no substitute centralized source of training and support services for instream flow and water level conservation studies has been established. Many who received training by the CIFSG have subsequently retired or moved to other jobs. As a result this interdisciplinary water conservation field has been losing a central focus, potentially leading to diminished credibility with quantifying the effects of water uses and management and research on effective conservation of instream flow and water levels on fish, wildlife, and habitat.
These concerns are being addressed by the Instream Flow Council (IFC) and American Fisheries Society (AFS) through a multi-state conservation grant project that will determine the need for, feasibility of, and path towards establishing a new instream flow and water level conservation training center (National Center).
A steering committee was formed representing water stakeholder interests (state/provincial governments, federal/national governments, academic, and private sector) to assess the needs and support for a new National Center whose mission is to synthesize emerging research and to develop and provide uniform interdisciplinary training in support of all aspects of ecological flow and water level conservation.
We welcome all stakeholder review,
Steering Committee
Co-Chair David Weedman, IFC Past President
Co-Chair Doug Austen, AFS Executive Director

Tom Annear
Daren Carlisle
Christopher Estes
Thom Hardy
Allan Locke
Donald Orth
Dudley Reiser
Clair Stalnaker
International Instream Flow Program Initiative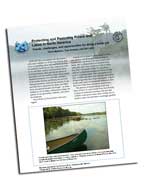 The International Instream Flow Program Initiative summarizes the status and growth of state and provincial instream flow programs over a ten-year period. The report was written to condense the information in the full IIFPI report and previous IFC books into a relatively short feature article-type document for the general public with the hope that it might be easier to read and understand than the books and reports upon which it's based. The lead author for this document was Chris Madson who is the editor and publications supervisor of the Wyoming Wildlife magazine.
Click here for more information
---
Integrated Approaches to Riverine Resource Stewardship: Case Studies, Science, Law, People, and Policy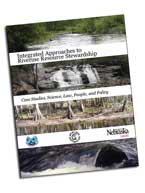 Authored by nine instream flow specialists from agencies in the U.S. and Canada, as well as a legal expert from the University of Nebraska, this book provides a detailed description of several case studies of riverine ecosystem management throughout North America as well as several other related topics. In addition to the detailed descriptions of eight case studies, you will also find examples of monitoring techniques and adaptive environmental assessment and management.

Click here for more information
Available at the American Fisheries Society bookstore
---
Instream Flows for Riverine Resource Stewardship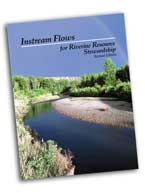 The revised edition of "Instream Flows for Riverine Resource Stewardship" is a comprehensive and in-depth treatment of the science, legal, institutional, and public policy aspects of instream flows. The first edition was published in March 2002 and sold out two printings without any promotion. Agency managers, consultants, academicians, legal experts, and libraries all found the book a valuable resource. In response to the many positive comments received, the revised edition was published in 2004 to add new text, reorganize the content, and provide over 100 illustrations to better describe the concepts of instream flow management.

Click here for more information
Available at the American Fisheries Society bookstore

Recommended citation

Annear, T., I. Chisholm, H. Beecher, A. Locke, P. Aarrestad, C. Coomer, C. Estes, J. Hunt, R. Jacobson, G. Jöbsis, J. Kauffman, J. Marshall, K. Mayes, G. Smith, R. Wentworth, and C. Stalnaker. 2004. Instream Flows for Riverine Resource Stewardship, Revised Edition. Instream Flow Council, Cheyenne, WY. 268 pp.
---

Managing Rivers, Reservoirs, and Lakes
in the Face of Drought
Practical Tools and Strategies for Sustaining and Protecting Ecological Values of Water
Fort Collins, Colorado      April 24-26, 2018
Thank you to all speakers and attendees who helped 
make FLOW 2018 a success!