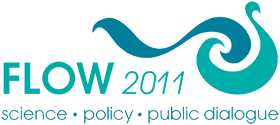 [nivoslider id="180″]    
Conference Home
The Instream Flow Council and the Tennessee Wildlife Resources Agency held FLOW 2011: Instream Flow Valuation in Public Decision-Making, May 2-4, 2011, in Nashville Tennessee. Similar to FLOW 2008 in San Antonio, this conference sought to further advance the integration of state-of-the-art science, policy, and public dialogue regarding water management related to aquatic resources. The specific goal of the 2011 conference was to build participants' abilities to effectively participate in public decision-making to generate outcomes favorable to aquatic resources.
Close to 200 scientists, agency staff, educators, legal experts, advocates, policy makers, economists, citizens, and researchers currently or potentially involved in water allocation or development decisions attended the conference. Evaluations showed broad success with yet another creative and interactive program. Thanks to our generous sponsors for their support. We hope all who attended returned home with many tools and resources to help them in their work.
What we did:
Learned about and discussed socio-economic and other tools to help convey the values of instream flows and lake levels
Explored case studies in flow quantification and valuation from across the US and Canada
Shared knowledge and experiences between professionals from a variety of disciplines
Built knowledge through conference workshops on pressing topics related to instream flow science, policy, and public dialogue
Discussed posters featuring progress in instream flow science, policy, and public dialogue
And more… a Tennessee Fish Fry, IFC awards, exhibitors, electronic participant polling, strategizing sessions, and enjoyment of "Music City" – Nashville!
Last Updated April 25, 2019