Christopher Estes: Making A Difference Award (2008)
Christopher Estes began his adult life in another career that provided a lot of the potential most people look for in a career, but he wanted to make a difference for public resources and the natural environment that was needed to sustain them; he wanted to avert the Tragedy of the Commons. He went to Alaska and became an instream flow biologist for Alaska Fish and Game Department and obtained additional training through a graduate program at Washington State University, where he co-authored a seminal review of instream flow method use by fish and wildlife agencies, published in Fisheries. From there, Christopher's influence on the instream flow community has been monumental.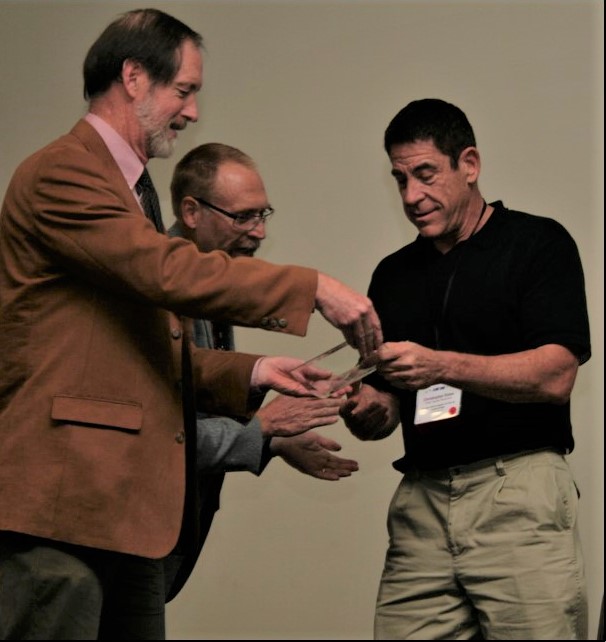 Why Alaska? As he reminds us all (frequently), Alaska is the largest opportunity in the United States to protect natural systems and entire watersheds.
Christopher recognized that protecting aquatic habitat depends on more than science; without good laws and public participation little can be achieved. In Alaska he was instrumental in the passage of laws favoring protection of instream flows for the fish and wildlife that draw many to Alaska.
Christopher's influence extends far beyond Alaska, to Hawaii, Puerto Rico, New Brunswick, and lots of places in between, and even to Sri Lanka and Turkey. During his review of instream flow methods used by fish and wildlife agencies, Christopher got to know that different people in different agencies were facing similar challenges, but were often insulated within their jurisdictions. In response, Christopher obtained funding and convened the National Instream Flow Program Assessment (NIFPA) in 1995 and 1996. From NIFPA, the Instream Flow Council was born. NIFPA brought together agency instream flow specialists and promoted networking and brought them (us) up to a higher level of understanding of the multidisciplinary nature of instream flow management. In particular, he focused on laws and the Public Trust Doctrine, and how laws are a foundation of successful instream flow management.
Many of us would have been content to rest on our laurels as the convenor of NIFPA and a catalyst for the formation of the Instream Flow Council, but not Christopher. When the IFC decided to put together its perspectives on instream flow management in book form, Christopher joined the group of authors of Instream Flows for Riverine Resource Stewardship. He has served continuously on the Executive Committee of IFC as its first Director-at-Large, providing his wisdom to IFC management.
Most recently, Christopher has been a driving force behind the National Fish Habitat Action Plan. This plan will bring funding and focus to fish habitat protection and restoration throughout the United States. Christopher has also worked to ensure that the National Fish Habitat Action Plan will have instream flow as a cornerstone.
The Instream Flow Council is proud to honor Christopher Estes with its Making a Difference Award.
---
Presented October 8, 2008 in San Antonio, Texas, at FLOW 2008
Last Updated October 2, 2020